Timetable
Group Fitness Classes
Improve your fitness and become a part of the community by joining our popular group fitness classes at Singleton Gym & Swim. Our timetable features a wide variety of exercise classes to suit everybody's individual needs and fitness levels.
If you want to build up your confidence in the gym our group fitness classes can help you through accountability and social encouragement.
Land Based Classes
GOLD (45 MINS)
Tailored Exercise Programs for people over 55. Stay fit, healthy and socially connected. Choose from land or water based activities. Gold Active classes utilise fitballs, therabands and other equipment for funtional fitness
Les Mills
PUMP (60MINS) Body Pump is Les Mills most popular Class! A barbell class that will challenge you and strengthen and tone your whole body in 1hour.
GRIT (30MINS) 30min HITT Training at its best.
Always challenging! Les Mills Grit combines cardio, strength and plyometric moves for a full body workout. Designed to get you fit and results real fast!
High Intensity
CIRCUIT (60MINS) Fun, Challenging and full of variety - NO class will ever be the same. Combining Strength, Power, Cardio and Endurance in multiple stations consisting of equipment and body weight to take your fitness to a new level.
BOXFIT (45MINS/60MINS) Boxing for Fitness with the use of focus pads, bags, medicine balls, skipping ropes. Fun, challenging workout everytime.
TABATA (30MINS) 30min HITT training. 20secs work and 10sec recoveries. Short, Sharp and intense. This class will drive your heart rate through the roof.
SPIN (45MINS) Indoor cycling clas focusing on endurance, strength and high intensity intervals. Bookings are essential.
Low Intensity
BELLY, BUTT & THIGHS (30MINS) Focus on your lower half in this belly-busting, booty shaping, lower intensity class that features a series of exercises aimed to strengthen and tone.

PILATES (30MINS) Pilates is a form of exercise which concentrates on strengthening the body with an emphasis on core strength.
Wellness
YOGA (60 MINS) Yoga focuses on the alignment of the whole body while holding poses that support the spine and bring awareness of breath with movement. Followed by relaxation/meditation phase.

MUMS AND BUBS (30MINS) A class designed for Mums to bring their bubs or small children but is open to all members.

FAMFIT (30-45MINS) Family Bootcamp, pre-registration is essential.
Water Aerobics Classes
AQUA (45MINS) A low impact but high intensity water aerobics class designed to improve flexibility, range of motion, strength and cardiovascular endurance.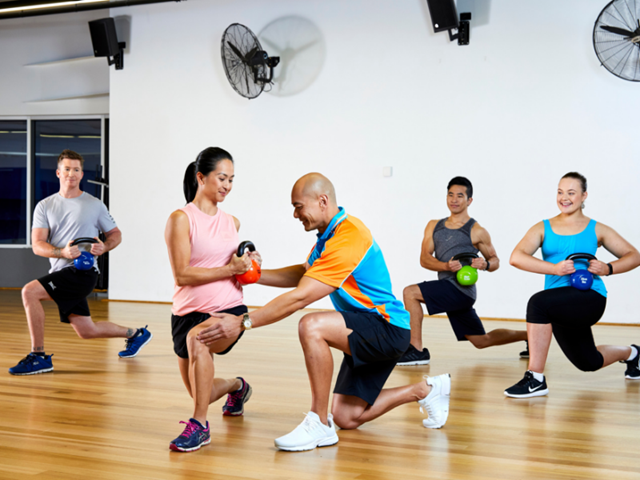 Group Fitness Timetable
Our timetable is correct at the time of publication and is subject to change. Please note public holiday classes are not included in the printed timetable.